Mario Sandoval
and Mario Villalón
Discover what Nordesiño means for Mario Sandoval and Mario Villalón, and their pairing ideas.
Russian salad with crab sticks and prawns

Preparation time
90 minutes


Ingredients:

250 g potatoes
3 eggs
100 g crab sticks
50 ml mayonnaise
40 g carrots
100 g prawns

Method:

Wash the potatoes and carrots, boil them and leave them to cool. Then peel them and cut them into pieces, creating a roughly mashed texture.
Break the crab sticks up and set aside.
Boil the eggs for 10 minutes. Leave them to cool and then grate them. Set aside.
Boil the prawns, cut them and set them aside.
To make the Russian salad, put the potatoes, carrots, crab sticks, prawns and grated egg in a dish.
Season and add the mayonnaise until you achieve a uniform texture which is not dry but doesn't have too much mayonnaise either.
Spread the Russian salad so it covers the entire dish and add a final layer made up of mayonnaise and grated egg.
Russian salad is a truly quintessential cold appetiser. Its creaminess pairs to perfection with the herbal aromas of Nordesiño, making for an unquestionably perfect match which is fresh, simple and ideal for any time of the day.
Mario Sandoval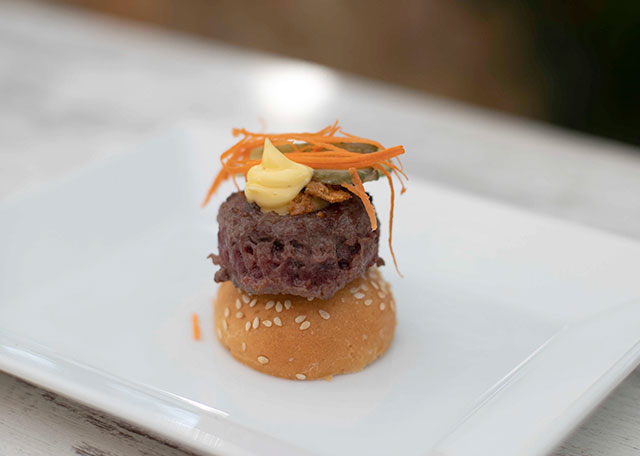 Mini Toro Bravo hamburger

Preparation time:
45 minutes


For the mini hamburger:

500 g Toro Bravo (Spanish Fighting Bull) beef mince
20 g salt
15 g pepper
40 ml fizzy water
6 g Jaipur curry
20 g mashed garlic and parsley
Mini hamburger buns: x 4

For the onion confit

100 g onion
30 ml red wine
30 ml port
20 g sugar

Method:


For the mini hamburger:

Add the salt, pepper, Jaipur curry, fizzy water, and mashed garlic and parsley to the meat
Mix well and make patties with the help of a burger press/cutter
Cook each side in a frying pan at medium heat for 3 minutes

For the onion confit:

Finely dice the onion and fry on a low heat
Once it is cooked, add the wine and leave to reduce
Lastly, add the sugar and strain

How to serve:

Place the patty inside the bun and the onion confit on top.

Nordesiño Tip:

If you're pushed for time and want to rustle up something quickly, you can always make a no-frills hamburger with bacon, cheese, onion, rocket and tomato. It'll only take you around 20 minutes from start to finish.
This dish is a homage to Spain, tradition, sustainability and simplicity. It's a dish which showcases the very best the rural world has to offer, and brings it to the city.
The fresh, wine-based aromas of Nordesiño contrast with the flavours of this hamburger to create a perfect pairing.
Mario Sandoval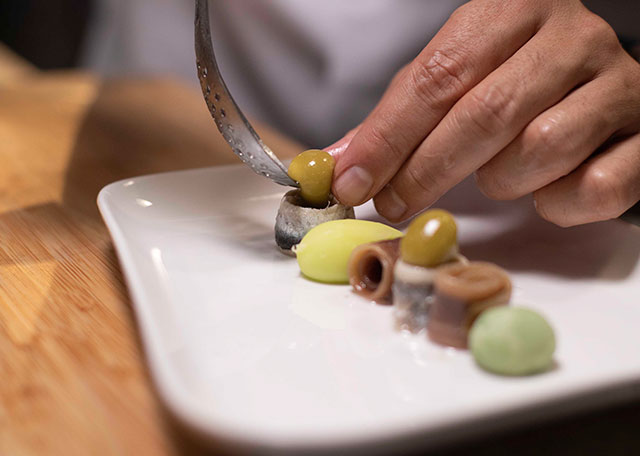 Textured Gilda

Preparation time:
90 minutes


For the liquid olives:

40 g Gordal olives
40 ml water
Bay leaf
Oregano
1 clove of garlic
50 ml extra virgin olive oil
Thyme powder
Glaze: 2 g cocoa butter
Anchovies marinated in vinegar: x 10
Anchovies 00 (large fillets): x 10

For the Piparra pepper ice cream:

200 g Piparra peppers
30 ml vinegar
200 ml water
80 g powdered milk
25 ml invert sugar
5 ml glycerine
15 g dextrose
7 ml cream
80 ml milk
5 g stabiliser
20 ml liquid glucose
Kiwi green food colouring

For the Gordal olive spheres:

100 g Gordal olives
1 l water
30 g calcium lactate gluconate
6 g sodium alginate

Method:


For the liquid olives:

Macerate the olives, and then drain and blend with the water until you have a uniform mixture
Put in moulds and freeze
Cover with the cocoa butter

For the Piparra pepper ice cream:

Wash the Piparra peppers and blend with the water and vinegar
Put the mixture in a saucepan together with the rest of the ingredients, except the food colouring, and heat it up to 70 °C
Strain again and add the food colouring until you achieve the desired colour

For the Gordal olive spheres:

Blend the (pitted) olives with the water, and strain using cheesecloth
Then blend the strained juice with the calcium lactate gluconate, put in a squeeze bottle and set aside
Give it a good shake and put in the fridge for around 1 hour, after which time it will be ready to use
Using a spherification spoon, make the olive spheres in the alginate
Once the outer film has formed, wash them in water and immerse them in olive oil

Nordesiño Tip:

If you're in a rush, you can also make some Gildas using pickled chillies, salted anchovies and green pitted olives. In less than 10 minutes, you'll have a mouth-watering appetiser.
This pairing is based on very natural ingredients, with liquid, moist textures that evoke the herbal aromas of Nordés and the smoothness of Nordesiño.
The spice of the pepper, the strength of the extra virgin olive oil and the taste of the anchovy combine with the Nordés and Alabariño wine of Nordesiño to offer flavours which both complement and contrast each other to create the perfect match.
Mario Sandoval