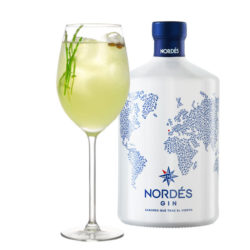 Nordés pays tribute to the traditional Galician drink by creating a version that benefits from its freshness and taste. A singular drink that offers us a new ritual to chase away the 'meigas' (witches), vanish our worries, or simply have a great time in good company.
INGREDIENTS:
5 cl of Nordés Gin
The juice of half a lemon
2,5 cl of ginger syrup
A touch of 'Montecillo Sigladuras Albariño' wine
3-4 coffee beans
Salicornia seaweed
Ice
PREPARATION AND PRESENTATION:
Pour the gin into a cocktail shaker with ice, the juice of half a lemon and the ginger syrup and close it.
Shake energetically for 10 seconds and serve immediately, straining the content into a wine glass with ice.
We end by adding a touch of cold Albariño.
For aroma, flambé the essential oils of a lemon peel, decorate with a few coffee beans and add the unmistakable salicornia.