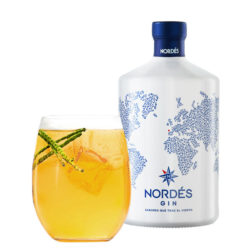 This cocktail, which owes its name to the first novel written in Galician from author María Victoria Moreno to be published, embodies the maritime presonality and Atlantic origin of Nordés in a mixed drink. Its ingredients and taste evoke the sounds, smells and landscapes of the most maritime side of Galicia.
INGREDIENTS
4cl of Nordés
5 mint leaves
5 twigs of glasswort
The juice of half a lemon
Brown sugar
Ginger Ale
Grated ginger
5clof Albariño wine (optional)
PRESENTATION
In a cocktail shaker with the juice from half a lemon and 15 ml of liquid sugar, crush the five mint leaves and four sprigs of glasswort without shredding them.
Add 4 cl of Nordés gin, fill with ice and shake for 10 seconds.
Serve in a tall, thin glass garnished with brown sugar on the rim, and fill with Ginger Ale. Top off with a dash of grated ginger and stir gently.
Decorate with a small twig of glasswort and Albariño grape carpaccio.
If we want to add salinity to our cocktail, we cut down the lemon juice by half and before adding the ginger ale we pour 5 cl of Albariño wine, giving an extra boost of flavour.