Only a few weeks ago we discovered Nordesiño, a new way of enjoying the appetizer: a light, refreshing and easy to drink option, with less alcohol content than a glass of wine (9.3º).
Nordesiño, the aperitif with a touch of Galician gin and albariño, turns a classic aperitif into a sublime one, a meeting with friends into a memorable moment and a family reunion into a special memory, even at home these days.
Thanks to its freshness and versatility, it perfectly combines with any cover. It has an unmistakable taste and it is perfect to accompany easy recipes, transforming the aperitif moment into a gastronomic experience both at home and away.
That is why, from Nordés, we want to give you the keys to achieve it. In order to achieve this, three Michelin star chefs Pepe Vieira (1 Michelin star), Mario Sandoval (2 Michelin stars), and José Carlos García (1 Michelin star), and three nationally renowned shakers have collaborated in the creation of the best hot and cold tapas that will sublimate your aperitif with Nordesiño.
All of them have come up with easy recipes that, even though made by authentic kitchen magicians, you can also make at home to accompany your Nordesiño appetizer. A proof of this is the Russian txaka and prawn salad, a recipe by Mario Sandoval. If you want other options, we have other recipes you can consult here.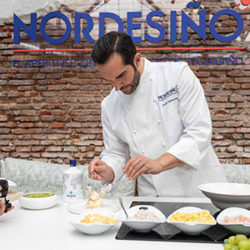 How to prepare Mario Sandoval's Russian salad at home:
Russian salad is one of the coldest appetizers par excellence in our country. The creaminess provided by the salad, along with the herbal aromas that Nordesiño has, makes it the perfect appetizer for any time of the day.
To prepare it, you just need a few ingredients:
250 gr of potatoes
3 eggs
100 gr of txaka
50 ml of mayonnaise
40 gr of carrots
100 gr of shrimp
Salt
Preparation:
Wash the potatoes and carrots, cook them, cool them, peel them and cut them with a knife, leaving a texture of mashed potato and carrot.
Crumble the txaka and save it.
Cook the eggs for 10 minutes, cool them, grate them and save them.
Cook the prawns, cut them and save them.
Prepare the salad mixture by placing the potato, carrot, txaka, shrimp, and grated egg on a tray.
Season it by adding the mayonnaise until it has a homogeneous texture, not being dry, nor adding too much of it.
Spread the salad on the tray and add a last layer with mayonnaise and grated egg.
By following these steps, you will enjoy an authentic gastronomic experience worthy of the most sybarite palates. Try to make it at home with your Nordesiño and share it with us.