Nordés continues to be recognised for its taste around the world. Wine Enthusiast magazine, one of the most influential and internationally known wine publications and acknowledged as one of the most important in the United States, has included Nordés for the first time in its "Top 100 Spirits" ranking. Moreover, the magazine highlights the fact that Nordés is the only Spanish gin selected among the other twelve brands in the category.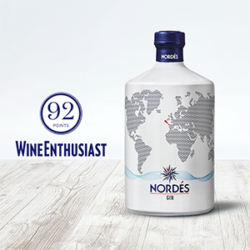 The ranking points out its balance and aromatic flavour with floral notes, thanks to the maceration of its eleven botanicals, among which sage, laurel, hibiscus and lemon verbena stand out.
This is a clear example of the success of Nordés worldwide. The taste is recognised thanks to its fruity and light flavour due to its albariño wine base, the presence of botanicals and its careful and gentle production process in which the traditional methods of local producers are reproduced. Furthermore, the natural ingredients offered by the land are carefully used and highly contribute to its final essence.
Our unique recipe starts with the alcoholic base from the Albariño grape from the Rías Baixas The distillate unfolds the aromas from 11 natural botanicals that are macerated separately before distillation. Each with a different duration, just long enough to provide the intensity needed from each botanical. The result is a gin rich in nuances that transports you to the Galician forests and gives you an Atlantic breeze, with an Albariño base that makes it unique in the world.
We are very proud to add this recognition to the others that we have received in recent years, such as the gold medal at the Concours Mondial de Bruxelles, the double gold medal at the largest wine competition in Hong Kong and China, the China Wine and Spirits Awards (CWSA), the gold medal at the 2019 Masters Awards Spirits, the gold medal awarded in 2018 by the association of wine professionals and journalists (AEPEV) or the award won in 2017 at the Mixology Awards.