Spain is the country of the aperitif par excellence, being it a ritual trend that began to be celebrated on Sundays and has extended to any day of the week as an excuse to meet with those we love the most. Making an appointment to have an aperitif with friends, family or a couple is THE PLAN we wait for all week, in order to catch up, have a bite in our favorite bar… in essence, to have a moment of enjoyment. It is a classic, whether it happens in a bar, a terrace or if you prepare it at home. 
When you prepare it at home, you always try to surprise yours with easy, but at the same time, delicious and original appetizers. Because, during this atypical 2020, we have learned to appreciate the small moments, to savor the reduced meetings with friends and family that have fulfilled a clear objective: to sublimate the daily thing. And that is where Nordesiño, our proposal for the aperitif, becomes the protagonist. Its freshness and versatility makes it the perfect combination for any tapa. It is a drink that incites to have a snack, something that transforms the moment of the appetizer into a super-appetizer.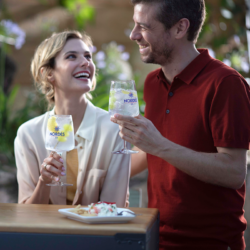 To make this happen, we have created a new way of drinking in order to have the best aperitif experience. With the union of three ingredients: the premium Nordic gin, the Albariño wine and the tonic, we have created a refreshing and aromatic experience, but, at the same time a soft, light and balanced option for the aperitif. Nordesiño has an unmistakable taste and less graduation than a glass of wine. It is the ideal option for those sublime appetizers that often last until the evening. Nordesiño is the appetizer to surprise, aromatic and refreshing. The combination of Nordés with Albariño is a winning bet and turns it into a unique, exclusive drink with identity. 
How do you prepare a Nordesiño? It is a simple and fast elaboration, with quality raw and easy to find  ingredients. First, get the following ingredients ready: 
Bottle of Nordés Galician Gin
Albariño Wine Bottle
Tonic (neutral whenever possible)
1 Lemon
Grapes
Ice
Step by step:
Fill the Nordesiño cup with ice.
Pour in 25ml of premium Nordic gin.
Add 50ml of Albariño.
Stir carefully.
Add 100 ml of tonic.
Cut the lemon peel and add a lemon twist.
Prepare a skewer with 3 grapes and add as a final touch.
And our sublime aperitif is ready. Do you dare to prepare it?