Valentine's Day is a unique opportunity to celebrate love with your partner and to toast to all the good times you've had and will have in the future. To celebrate this special day, we have prepared a stellar cocktail with a great story behind it: Aviation Nordés!
If you have never tried this wonderful cocktail, jot down its history and recipe to surprise your partner: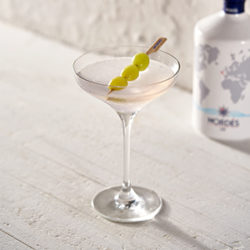 The Aviation cocktail was created in 1916 by Hugo Ensslin, cocktail master at the Wallick Hotel in New York. Despite being a century old, the cocktail never goes out of fashion and has been modified and modernized on many occasions. It is perfect for special occasions, the combination of the sweetness of the Crème de Violette and the bitterness of the lemon creates a delicious combination that explodes with flavours.
Check out all the ingredients:
Ingredients:
-4.5 cl Nordés gin
-1.5 cl Maraschino liqueur
-1.5 cl lemon juice
-0,2 cl Crème de Violette/ Crème de Yvette liqueur (optional but highly recommended)
-1 Grape to garnish
-Ice
Enjoy!