In his own words, Andrea Zarraluqui's (@azarralqui) style is "natural, loose stroke, intuitive and imperfect". Thanks to her simplicity, naturalness and character, Andrea Zarraluqui has conquered the world with her astonishing hand-painted tableware and her creations have found their way to the tables of the best-known personalities.
Her main source of inspiration comes from ancient botany and photographs of landscapes; toucans, cactus, tropical plants and flowers that populate her dishes. The personalization and the hand drawing is the success of her work, since each element included in her dishes becomes a unique and differentiating piece.
Her art and the basis of her work have many similarities with the Galician Nordés gin, so there was no better ambassador to inspire and demonstrate that naturalness and character and make the next Special Edition.
Andrea Zarraluqui has been inspired by the nuances of Nordés flavour to make these beautiful designs: fruity, floral and herbal.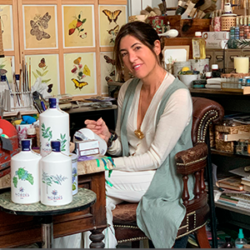 Her first design, fruity design, is inspired by the the albariño grape , the soul of Nordés, an ingredient that makes Nordés have a soft aroma of fruity notes and makes it a pleasant and easy-to-drink premium gin.
The second one, the floral one, transports us to the freshness of its land of origin, Galicia. With the lemon verbena as the main ingredient, Andrea Zarraluqui shows the aroma added by the Galician wild fruits.
Finally, we come across the laurel, one of the six autochthonous Galician wild flowers among the eleven botanicals that are part of the Nordés' seal of identity.
To participate in this exclusive contest and choose your favourite design we encourage you to go to the Instagram and Facebook profile of Nordés!
Good luck!