Want to relive one of Don Draper's scenes in Mad Men? The Bloody Mary is a signature drink in this cult series and has been a classic in the world of film and literature for the past 100 years.
This historic cocktail turns 100 years old and at Nordés we want to honour it with a special version made by the prestigious bartender Mario Villalón: The Fujin Bloody Mary.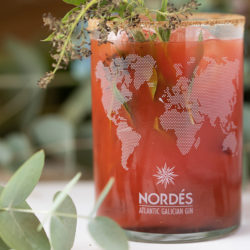 Everyone has tried this cocktail at one time or another, seeing as it is a well-known pop culture drink. The drink first started gaining popularity in the 1920s, when many celebrities were drinking it during their creative heydays. The drink's origin can be traced to Parisian bartender Fernand Petior, who came up with the idea of mixing 50% tomato juice with vodka. His invention was a hit amongst the clientele of Harry's New York Bar, a legendary spot in the French capital. There are countless stories and legends about this drink that have been passed down from bar to bar during the last 100 years, but what they all seem to agree on is that this cocktail is more of an experience than a drink. 
If you are looking to have a true aperitif, check out our Fujin Bloody Mary Recipe:
Ingredients: 
3cl of Nordés
2cl Homemade Japanese dressing
Tomato Juice to top off
 Elaboration:
1 part eel sauce 
1 part oyster sauce 
3 parts Yuzu juice 
½ part Sriracha sauce
½ part Soy sauce
2 parts Ponzu Vinegar
Step 1: Add the dressing and vodka together in a highball glass 
Step 2: Add ice and tomato juice and stir it all together 
Garnish with a stick of celery 
Enjoy!