13 to 26 September
You're saying goodbye to the summer holidays, but the good weather remains and you still want to enjoy an appetizer. Don't worry because we have the solution! We are inaugurating the Nordesiño Routes in Madrid from September 13th to 26th so that you can enjoy the best tapas in the capital with a unique appetizer: Nordesiño.
Definitely, a plan not to be missed if you are a lover of appetizers and the city's traditional gastronomy. Ponzano and Retiro are the neighbourhoods selected for this sublime experience where each place on the route pays tribute to Nordesiño with a homemade tapa. A good time with friends and gastronomic diversity is guaranteed. Are you up for it?
Nordesiño Route venues in Madrid:
Maracca (Santa Engracia 112)
"An inspiration that activates all five senses".
El Botarate (Rios Rosas 30)
"The best tostas in Madrid".
Candeli (Ponzano 47)
"Traditional cuisine where detail is the most important thing".
La Duda Ofende (Bretón de los Herreros 13)
"Restaurant and bar for drinks and snacks with a rogue character, where you can disconnect and be yourself".
Ardoka (Bretón de los Herreros 9)
"Traditional market cuisine, at the same time innovative, with the pintxo as a starting point".
Ante la Duda (Bretón de los Herreros 18)
"Tapas bar, raciones, drinks, music and fun".
Restaurante Zaga (Bretón de los Herreros 39)
"Defence of quality products at the bar and tablecloth".
La Caraba (Alonso Cano 28)
"A commitment to traditional flavours and seasonal produce with the innovation and audacity of avant-garde cuisine".
Casa de Fieras (Menéndez Pelayo 15)
"A place with designation of origin".
Restaurante Méndez (Ibiza 33)
"The freshest seafood of the day in El Retiro…".
Vinos de Bellota (Antonio Acuña 27)
"Creative, avant-garde-traditional, Mediterranean and positive restaurant…".
Taberna La Fragua de Vito (Fernán González 54)
"An ode to the quality of the product".
Fogón de Varoja (Narvaez 45)
"The best meat grill in El Retiro".
Sabrisa (Menéndez Pelayo 15)
"Signature cuisine with Ibizan roots and flavours from around the world".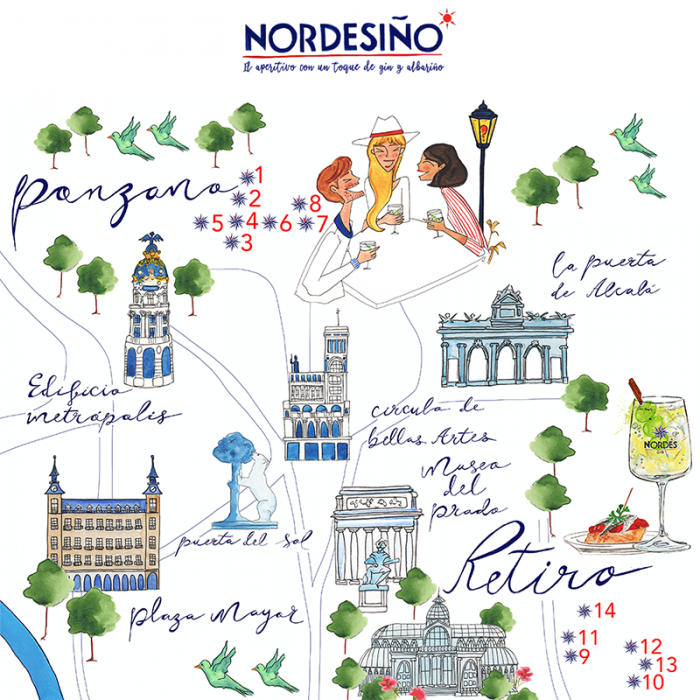 Haven't you heard of Nordesiño yet? It's a refreshing aperitif with low alcohol content based on Nordés premium gin, Albariño wine and neutral tonic, go ahead and try it! If you still don't know how to prepare it, it's very simple. Discover it on our YouTube channel