We present "Sabor Nordés", a a tasting menu of twelve dishides created by the chef Rodrigo de la Calle. The chef of the green revolution or also known as "the father of Gastrobotany", is the best partner to create this menu where seasonal and excellent quality products predominante.  A gastronomic proposal where the Galician botanicals of Nordés are the common thread and provide the aroma and freshness so characteristic of our gin of Galician origin.  Five of the dishes include Galician botanicals from Nordés: lemon verbena, peppermint, laurel, salicornia (or sea asparagus) and eucalyptus. These five creations are paired with surprising low-alcohol cocktails made from natural fruits and vegan drinks such as kombucha, kefir or tepache, flavoured with a touch of Nordés. The result is a menu with a selection of twelve very personal and authentic dishes that will become favourites in our recipe book.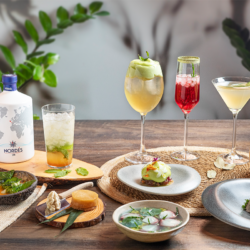 His culinary proposal based on Galician botanicals consists of:
"Cebiche de hortalizas y hierbaluisa" and the cocktail "Alisios de Hierbaluisa by Nordés Gin".
Pickled carrots with mint" and the cocktail "Mistral de menta by Nordés Gin".
Mushrooms with cream and laurel" and "Pei Fung de Laurel by Nordés Gin"
Rice with octopus and salicornia", and the cocktail "Ábrego de salicornia by Nordés Gin".
Celeriac and eucalyptus tatin", a dessert to finish the menu with the cocktail "Terral de eucalyptus by Nordés Gin".
"Sabor Nordés" will be available at Rodrigo de la Calle's restaurant El Invernadero from July 1st, throughout the summer and the month of October at a price of 110 euros.