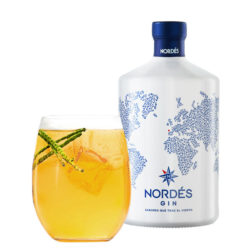 Discussing Galician literature without mentioning Rosalía de Castro would be like trying to make a gin and tonic without gin. Her work, Cantares Gallegos, marked the beginning of Galicia's cultural renaissance and gave prestige to the Galician language as an instrument of literary creation. Which is why the day chosen to celebrate the first Day of Galician Literature was May 17, 1963, to mark the one-hundredth anniversary of the publication of her work.
Ever since, every May 17 has turned into a day to honor Galician literature. And this year we wanted to join the celebration by creating a Nordés cocktail for the occasion.
Drawing inspiration from the works of María Victoria Moreno, featured in the 2018 Day of Galician Literature, we made a fresh, Atlantic cocktail that brings to mind the smells of the sea and the sounds of Galicia. The result bears the name of the first novel written by the author in Galician.
Preparation:
MAR ADIANTE
Ingredientes:
4 cl de Nordés
5 mint leaves
5 sprigs of glasswort
Juice from half a lemon
Brown sugar
Ginger Ale
Grated ginger
5cl Albariño wine (optional)
The glasswort will provide that touch of salt that will be countered by the freshness of the mint and a bit of brown sugar that, if we close our eyes, will take us directly to the beach, sitting alongside the novelist.
Presentation:
In a cocktail shaker with the juice from half a lemon and 15 ml of liquid sugar, crush the five mint leaves and four sprigs of glasswort without shredding them.
Add 4 cl of Nordés gin, fill with ice and shake for 10 seconds.
Serve in a tall, thin glass garnished with brown sugar on the rim, and fill with Ginger Ale. Top off with a dash of grated ginger and stir gently.
Decorate with a small twig of glasswort and Albariño grape carpaccio.
If we want to add salinity to our cocktail, we cut down the lemon juice and before the Ginger Ale, we pour 5 cl of Albariño wine, giving an extra boost of flavour.
Our literary cocktail is almost ready to be enjoyed. It only needs to be paired with some verses. And who better than Rosalía de Castro to make us feel the sea breeze with her poem from "On the Edge of the River Sar":
The Oak Trees
[…] Proud mighty tree, it pleases you
to listen to the whispers of the serf,
to howl with the ocean breeze
on the white desert of the beach,
beloved tree!, you soothe my eye
with the warm reflections
that shine in your beautiful chalice,
brazen mirror of heaven,
as you bid farewell to the dying light
and greet the evening star. […]